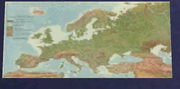 Europe is a continent on the Eurasia landmass. The continent of Africa was to the south and the continent of Asia was to the east. It contains a wide variety of countries and geographical features. During the early to mid-1940's Europe was a battle ground of World War II between Allied and Axis powers.
Known government locations
Edit
Known geographical locations
Edit
External link
Edit
Europe on Wikipedia
Ad blocker interference detected!
Wikia is a free-to-use site that makes money from advertising. We have a modified experience for viewers using ad blockers

Wikia is not accessible if you've made further modifications. Remove the custom ad blocker rule(s) and the page will load as expected.