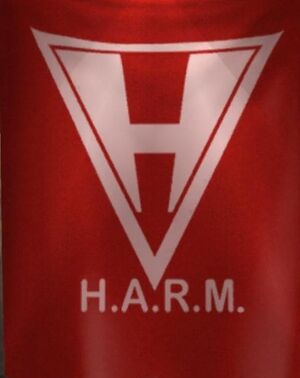 H.A.R.M. is a terrorist organization bent on conquering the entire world and the main group of antagonists in the NOLF series of games.
H.A.R.M. was intended to stand for Hair Alternative Replacement Membership, according to intelligence loose documents that Cate Archer finds along the way, however, since another entity disapproved its use, the real meaning of H.A.R.M. remains debatable.
H.A.R.M.'s Leadership:
Edit
H.A.R.M.'s Elite:
Edit
H.A.R.M.'s Allies:
Edit
H.A.R.M.'s Employees/Henchmen/Thugs:
Edit
H.A.R.M.'s Departments:
Edit
Known H.A.R.M. Facilities
Edit
H.A.R.M. also had a new base planned in Sweden, but it is not known if this base is in operation yet.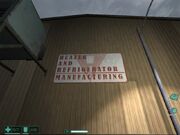 It is worthwhile to note that in a different game produced by Monolith, entitled F.E.A.R., there is a level where H.A.R.M.'s distinctive logo appears, shows a different meaning to the acronym: "Heater And Refrigerator Manufacturing".
Ad blocker interference detected!
Wikia is a free-to-use site that makes money from advertising. We have a modified experience for viewers using ad blockers

Wikia is not accessible if you've made further modifications. Remove the custom ad blocker rule(s) and the page will load as expected.