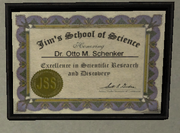 Jim's School of Science is a school of higher education located in an English speaking country.
Sometime after 1929, Doctor Otto Schenker earned a plaque for Excellence in Scientific Research and Discovery from Jim's School of Science. The plaque hangs on the wall of his office at UNITY Headquarters.
Ad blocker interference detected!
Wikia is a free-to-use site that makes money from advertising. We have a modified experience for viewers using ad blockers

Wikia is not accessible if you've made further modifications. Remove the custom ad blocker rule(s) and the page will load as expected.