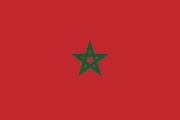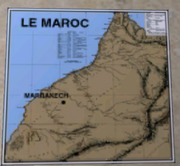 Morocco
(
Maroc
in French) is a kingdom on the north-west coast of Africa. The Atlantic ocean is on the west coast. The Mediterranean Sea is on the north coast. Some of the interior of Morocco is covered by the
Sahara Desert
. Morocco is a popular tourist destination for many Europeans and Americans.
H.A.R.M. has discovered that American Ambassador to West Germany, Morris Monroe will be vacationing in Morocco. They sent Dmitrij Volkov to assassinate him. UNITY, learning of this plot, sent Bruno Lawrie and Cate Archer to protect the ambassador. This was the first mission in The Operative: No One Lives Forever.
H.A.R.M. operates a base (identified by various H.A.R.M. memos as Facility 4524) on the coast of Morocco near Tangier.
One of the American tourists was Martha, who originally wanted to visit Paris, but her husband Clark insisted that they go to Morocco. It was here that he reveled his true identity to her as a Soviet spy and that he was leaving to return to the U.S.S.R. Distraught, Martha wandered the desert until she was found by Berber nomads near Merzouga. She elected to stay with the desert when Clark asked her to take him back.
Known locations
Edit
External link
Edit
Morocco on Wikipedia
Ad blocker interference detected!
Wikia is a free-to-use site that makes money from advertising. We have a modified experience for viewers using ad blockers

Wikia is not accessible if you've made further modifications. Remove the custom ad blocker rule(s) and the page will load as expected.