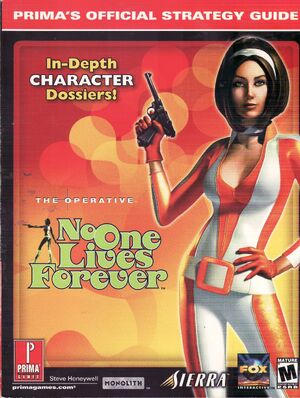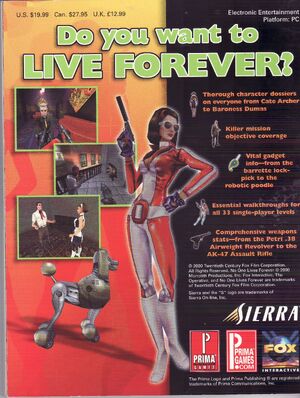 The "
No One Lives Forever Prima's Official Strategy Guide
" was a licensed publication by
Prima Games
. It was written by
Steve Honewell
and was released in 2000. The book is a breakdown of the characters, equipment and intelligence items found in the game
The Operative: No One Lives Forever
. There is also a complete walk-through of the various levels. The book has 205 pages. The ISBN number is 7615-2814-8.
Chapter Breakdown
Edit
Chapter 1: Introduction
Edit
How to use this book
Chapter 2: Agents, Operatives and Spies
Edit
The Good Guys
The Bad Guys
Chapter 3: Weapons and Gadgets
Edit
Weapons
Gadgets
Chapter 4: Strategies
Edit
Combat Strategies
Stealth Strategies
Chapter 5: Mission 1- Misfortune in Morocco
Edit
Chapter 6: Mission 2- Berlin by Night
Edit
Chapter 7: Mission 3- Unexpected Turbulence
Edit
Chapter 8: Mission 4- Rendezvous in Hamburg
Edit
Chapter 9: Mission 5- A Tenuous Lead
Edit
Chapter 10: Mission 6- The Dive
Edit
Chapter 11: Mission 7- A Man of Influence
Edit
Chapter 12: Mission 8- Safecracker
Edit
Chapter 13: Mission 9- Rescue Attempt
Edit
Chapter 14: Mission 10- Trouble in the Tropics
Edit
Chapter 15: Mission 11- Low Earth Orbit
Edit
Chapter 16: Mission 12- Alpine Intrigue
Edit
Chapter 17: Mission 13- The Indomitable Cate Archer, Superspy
Edit
Chapter 18: Mission 14- A Very Big Explosion
Edit
Chapter 19: Mission 15- Such is the Nature of Revenge
Edit
Chapter 20: Multiplayer Games
Edit
Deathmatch
H.A.R.M. vs. UNITY
Appendix 1: Intelligence Items and Bonus System
Edit
Appendix 2: Index
Edit
Ad blocker interference detected!
Wikia is a free-to-use site that makes money from advertising. We have a modified experience for viewers using ad blockers

Wikia is not accessible if you've made further modifications. Remove the custom ad blocker rule(s) and the page will load as expected.