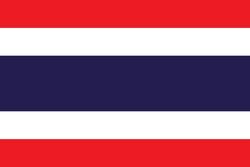 The Kingdom of Thailand is a country located in Asia. It shares an eastern border with Burma. The capital of the country is Bangkok.
At the English chemical plant owned by Dumas Industrial Enterprises, Cate Archer can hop on a train. If you stay on this train it will eventually "take you" to Paris, France; Warsaw, Poland; Nairobi, Kenya and Bangkok, Thailand before returning to the plant.
Known Cities
Edit
External link
Edit
Thailand on Wikipedia
Ad blocker interference detected!
Wikia is a free-to-use site that makes money from advertising. We have a modified experience for viewers using ad blockers

Wikia is not accessible if you've made further modifications. Remove the custom ad blocker rule(s) and the page will load as expected.